New Announcements
"The 19th Printing South China" Converges 1000 Suppliers to Forge the First Largest Printing Expo in 2012


March 7-9, 2012China Import & Export Fair Pazhou Complex, Guangzhou, PR China

China's Top Integrated Printing ExpoCreates Power with The Latest Printing Technology
The largest and most influential events for printing industry – "The 19th South China International Exhibition on Printing Industry (The 19th Printing South China), is going to be held at China Import & Export Fair Pazhou Complex on March 7-9, 2012. Almost 1,000 exhibitors gather for a professional showcase of the most advanced printing technology, system and solutions. "Printing South China" is organized by the Administration of Press and Publication of Guangdong Province, China Foreign Trade Centre (Group), Adsale Exhibition Services Ltd and Guangdong Provincial Publishing Group.With governmental parties' guidance and professional exhibition services, the show undertakes the mission of promoting China's printing industry upgrade and transformation, striving to build a premium and highly efficient trading platform for the printing industry every year.

Great Leap Forward on Show Scale of Up to 6 Special Theme Zones
Striving towards its20th anniversary, "The 19th Printing South China" will be further expanded for an extensive technological showcase under 6 theme zones, which include Pre-press, Digital Printing, Offset/Flexo/Gravure Printing, Screen Printing & Materials, Printing Ink/Consumables/Materials & Accessories, as well as Post-press Converting & Carton Packaging.

Enthusiastic Participation of Industry's Renowned Enterprises
As stated, Exhibitor recruitment of "Printing South China 2012" is approaching its epilogue with amazement. World-renown exhibitors include: SHANGHAI ELECTRIC, HANS-GRONHI, MBO, SHANGHAI PURPLE MAGNA, CROWN INK, HGPM, HÖRAUF, CHENGTU, JMD, LONGHUA, YONGSHUN, NANJIANG, EPSON / POLYTECH, WEIHAI HAMADA, ZHENGBO, RUIHAI, ZHENGRUN, FANGBANG, RUIGUANG, JIALIDA PACKING MACHINE, JINGBAO, CRON, QINGDAO RPM, SHENDEANXUN, PENGHUIFENGHUA, GUANGMING, HUARUIJINGYI, LUCKY FILM, HUQIU, etc. have confirmed to participate in the show.Together with its concurrent exhibitions, "Sino-Label 2012" and "Sino-Pack 2012", the total exhibition area has reached 80,000 sqm, foreshadowed to attract patronage of more than 50,000 local and overseas professional buyers.

JoinHands with Industry Associations & Mainstream Media to Forge the Most Spectacular Conconcurrent Event
To keep abreast of the market trends, not only there will be series of high-end concurrent symposium, but also a professional business matching activities to facilitate participants to seize market opportunities. During the show period, official representatives from the government, leading suppliers, as well as large enterprises will be invited to explore and discuss about the latest technologies and development trend of the industry. They are namely:

Symposium on Green Printing –Organized by Professional Packaging & Printing Committee of Guangdong Packaging Technology Association, industry's experts will be invited to introduce the latest green printing technology.

"Creative Green Printing" Display Zone –Demonstrate the latest green printing and packaging masterpieces of top-100 printing enterprises.

Symposium on Digital Printing Technology & Applications - Co-organized with China Academy of Printing Technology and KeyinPrint China, it will share the latest digital printing technology as well as development trend of the industry
Symposium on "Label Printing Goes Digital"- an industry grand event that is jointly held with the media HC360, 150 representatives from leading label printing enterprises, trade media, governmental representatives, etc. will be invited to explore together the latest label printing technology and its future development trend. As well as more include

Annual Conference of Guangzhou Publishing and Printing Industry Association- Gather all printers from Guangzhou city to the show and explore future development of the printing industry.

"Daily Chemical Label Premium" Display Zone, forum on "Label Coating Technology",as well as Symposium on "Technological Innovation on Daily Chemical Label".

Extensive Support from Hundreds of Industry Assocations and Enterprises
"Printing South China" has been gaining enthusiastic support from the industry since it was established. As stated, the organizer has successfully invited almost a hundred of local & overseas printing, label and packaging industry associations and corporations to organize delegations to visit the forthcoming "Printing South China 2012", which include Beijing, Guangzhou, Shenzhen, Shantou, ZhongShan, NanHai, FoShan, Yulin, Nanning, Beihai, Xiamen, Quanzhou, Zhengzhou, etc.; Overseas include Hong Kong, India, Russia, as well as various South East Asian countries, etc.. WhileTop-hundred printers of China including Hucias, RR Donnelley, Fungchoi, Yuto, Artron, Brilliant Circle, Lijia Group and Wanli, etc., have also confirmed their group visit to the show.Industry's recognition of "Printing South China" is further proven by its overwhelming congratulatory blessings given from 20 associations and organizations to pre-celebrate for its 20th anniversary.

"Printing South China 2012" Exhibits Debut (Partial)
Weihai Hamada Printing Press Co., Ltd. Booth No.: 4541
WEIHAI HAMADA 466 has two-times cylinder 7 o'clock arrangement transfer, the maximum paperthickness is 0.6 mm and the printing speed can achieve 15000 S.P.H. Extended delivery part of WH466 High Pile will ensure the drying of printed materials more easily.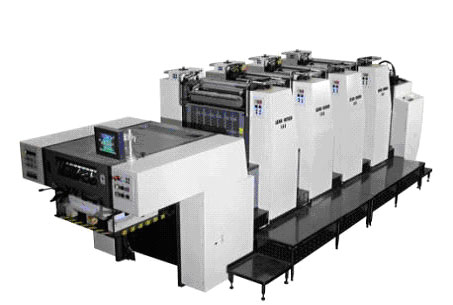 (Name of Exhibit:WEIHAI HAMADA466 Series)

Jiangsu Fangbang Machinery Co., Ltd. Booth No.: 3408
Fully Automatic Sheet Feeding Square Bottom Paper Bag Making Machine - The machine is designed specifically for automatic in-line production for S.O.S paper bags with handles. High speed production and easy size change by servo-motor control (option). Reducing down time for size change, bag size range becomes wider. This machine is the first sheet feed fully automatic SOS paper bag making machine produced in China, all steps are completed in-line, it is an ideal equipment for handling square bottom paper bag.



(Name Of Exhibit:Fully Automatic Sheet Feeding Square Bottom Paper Bag Making Machine)

Wenzhou Zhengrun Machinery Co., Ltd. Booth No.: 3418
Automatic Rigid Box Forming Machine is a good equipment for making high-grade covered boxes because it is characterized by fine design, reliable performances and advanced technologies. It employs PLC, Photoelectric detector system, hydraulic pneumatic system, touch screen man-machine interface to automatically finish and gluing paper, conveying cardboard, forming and gluing four angles of cardboard, positioning, gluing and forming box in one time. It is applicable to make high-grade boxes for shoes, shirts, jewelry, gifts, etc.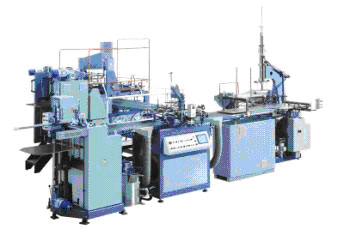 (Name of Exhibit: Automatic Rigid Box Maker, Automatic Case Maker)
More available on "Printing South China 2012" Online Exhibition: http://www.adsaleonline.com/vb/vb_main.asp?fExhibition=262&lang=1

For enquiries, please contact Ms. JaniferHui / Ms. Sini Liu at Tel: 852-2811 8897, or email at: publicity@adsale.com.hk. In alternative, please visit the show website at: www.PrintingSouthChina.com.
Show Facebook: www.facebook.com/Printing-South-China

Issued by Adsale Exhibition Services Ltd
For media enquiries, please contact:
Ms. JaniferHui / Ms. Sini Liu (Marketing Communications Department)
Add: 6th Floor, 321 Java Road, North Point, Hong Kong
Tel: (852) 2516 3389 / 2516 3326
Fax: (852) 2516 5024
E-mail: publicity@adsale.com.hk
Adsale Group: www.adsale.com.hk
Adsale Industry Portal: www.2456.com