Mr. Khaja Mohaideen, Committee Member
Managing director of Standard Colour Co. (P) Ltd., Chennai, is a qualified colour chemist from London University. He is a great visionary and is a son of one of the leaders and pioneers in South India – Mr. S. A. Jhan Mohamed. He is noted for lending interest-free loans to new traders and printers who want to join the screen printing industry.


Mr. Mukund Karia, Committee Member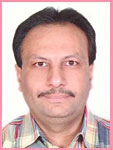 He operates from Indore under the name of Mukund Enterprises – leading distributor of screenprinting materials, inks & accessories in central India. He helps screenprinters in keep themselves updated with latest developments taking place in the industry. He has been awarded 'Gold Rating – Central Zone', Screen Print India Excellent Suppliers & Dealers Awards.
Mr. Dhiren V. Shah, Committee Member
He is based in Hyderabad and runs Sigma Corporation – leading wholesaler and supplier of screenprinting materials and inks in southern India. This screenprinter turned supplier is a well-known 'trouble-shooter'. He has been awarded 'Gold Rating – Southern Zone', Screen Print India Excellent Suppliers & Dealers Awards.
Mr. G. P. Kamath, Committee Member
He is managing director of Fibre Abrasives, Bangalore – manufacturer of machineries for PCB printing industry; turnkey solution provider for various screenprinting applications; leading distributors of screenprinting materials in southern India. A well-known name in PCB industry due to in-depth technical knowledge.
Mr. Jignesh Ruparelia, Exec. Committee Member
He Heads an exclusive printing solutions provider, Varsha Transprint based in mumbai . They are virtually a single point solutions provider for all types of Transfer Prints, Screen Printing, Digital Printing, Wide Format Printing, Corporate Gifting & Promotionals. Catering to globally based clientele. Over past 13 years the range of services offered by Varsha Transpriont has evolved and expanded considerably. They have won numerous national and international awards at SGIA (USA) and Screen Print India Awards Competition.
Mr. T. Velusamy (Raja), Exec. Committee Member
Indoflex Screen Print Supplies is the authorised sole distributors in India for the well knowns international brands Wiflex & Manoukian. T.Velusamy (Raja) is the Managing Partner of the company. Recently they have entered into a technical colloboration with one of their principals M/s.Kiian Spa, Italy of Manoukian to manufacture textiles screen printing inks in India. Mr.Raja is coming from a family of Cotton & Textile business for the past 3 generations. He after entering into the family business has diversified into the Screenprinting industry since 1994 and the business keeps growing. They are also diversified into Energy business, producing power from Wind Energy